THE LOGAN SEELYE STORY
From: dan seelye
To: Justin Brost
Cc:
Subject: Logan Seelye
Date: Fri, 31 Oct 2003 13:57:34 -0800 (PST)

My name is Dan Seelye. I am the father of Logan Seelye, a 16 year old quadriplegic. Logan dislocated his C5 and fractured his C6 on July 2, 2003. An anterior fusion of these two vertebrae was performed on 7-03-03. Logan was in intensive care at Harborview Hospital in Seattle for 7 days and transferred to Good Samaritan Hospital in Puyallup, Washington for 7 weeks during his in-patient rehabilitation. He returned home on the 29th of August and is adjusting to his new life.
Shannon and Justin Brost contacted me in mid July and explained what they had available and asked to make a visit to our home. They traveled over three hours one way to share their E Machine with my family. They are very cordial folks and walked us through the process easily and made us feel very comfortable in a short period of time.
During their first visit (August 18), Justin worked with Logan and we saw his toes on his left foot move for the first time! We were ecstatic, needless to say. When your child is very active and plays sports with heart and vigor, is talented and learns new skills rapidly; to see his toes move after such a traumatic injury is a fantastic sight to witness. And we owe that moment to Justin and Shannon.
Logan asked me several times after this session when he could have another treatment. On October 12, Justin and Shannon returned to our home. They were impressed with Logan's progress and preformed another treatment. Logan had been complaining of pain behind both knees. Justin worked those areas, and Logan's complaints stopped. We also witnessed increased activity in his right leg, both triceps and finger extensiors. Logan wants to have additional treatments for he feels that the benefits far outweigh the e-stem sessions he receives at Good Samaritan during his out patient therapy. He feels more movement, greater extension, and more relaxed muscles. For up to 72 hours after Justin has visited with Logan, his muscle spasms have also been less frequent.
Thus; my son has seen improvement post therapy sessions with Justin. He has asked me on many occasions if we could have a machine for home use. I see the value, not just for people recovering from an injury, but for anyone looking for improved health benefits.
---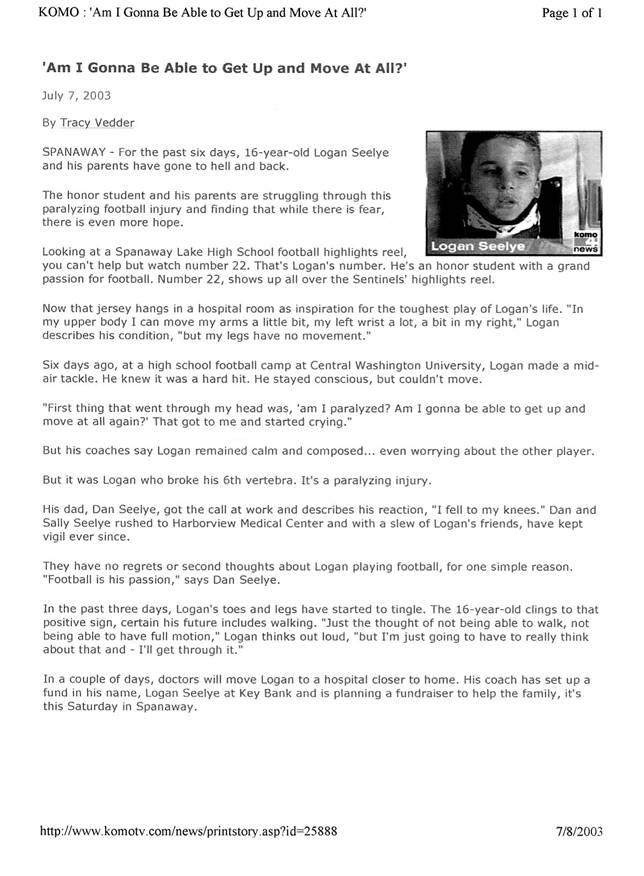 ---

We met with the Seelye family in order for Logan to experience use of the EFS-100 Sunday August 10th for several hours.  He both charged on the unit for a total of an hour.
---
To: energeticfitness
Cc:
Subject: Thanks
Date: Mon, 11 Aug 2003 08:09:49 -0700 (PDT)

Thanks for visiting with us yesterday.
We appreciate you taking your time to drive to Puyallup and work with Logan. It will be interesting over the next couple of days to see his progress.
Attached are a couple of photos for you.
Thanks again,
Dan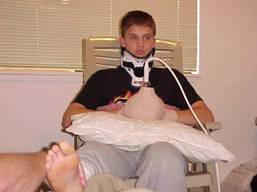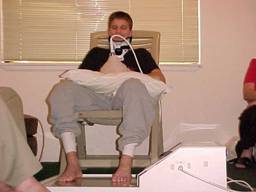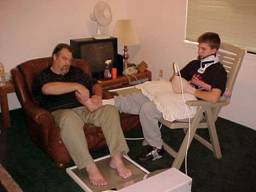 ---
To: energeticfitness
Cc:
Subject: Logan
Date: Thu, 14 Aug 2003 17:19:00 -0700 (PDT)
Justin and Shannon
Just a quick note to say thanks again.
I have not been around Logan a whole lot this week, so I cannot report any significant changes. When I do have a chance to visit him, he is in therapy, or his room is full with people checking up on him (friends, relatives, etc..).
I will ask him tonight if any changes have been noticed and send you and update.
Dan
---
To: Justin Brost
Cc:
Subject: Re: Logan
Date: Thu, 25 Sep 2003 13:11:39 -0700 (PDT)

Thanks for the follow up.
The best time for us would be on a Sunday - we can visit with you in Bellingham as necessary.
Please forward Karl's address to me again - I did not store it in my book.
How is Patrick doing? Any news from South America?
We look forward to hearing from you soon.
Dan

Justin Brost wrote:

Dear Dan & Logan:
Justin & I are very glad to both hear from you and to know that Logan is doing so well! Karl Mohr has asked us on several occasions about Logan. He would enjoy hearing from you again.
The answer to both of your questions, is yes. Firstly, another session with Logan would be great, let's coordinate. Secondly, we'd like to discuss the working relationship for the South Puget Sound area when we get together. Sincerely,
Justin & Shannon
---
From: dan seelye
Date: Tue, 23 Sep 2003 11:48:45 -0700 (PDT)
To: Justin Brost
Subject: Logan
Hi Justin
Logan is now home from Good Sam - in school - assisting with coaching the defensive backs - outpatient therapy 3x per week - and progressing well.
He has good movement in his left leg and yesterday his doctor noticed some activity in his right.
He (Logan) has asked me a couple of times if there would be a possibility of doing another session with you. We (you and I) had discussed a working relationship for the South Puget Sound area - any additional input?
When you have a chance, e mail or call me.
The attached picture was taken on August 19th. It was team photo day.
Thanks
Dan Seelye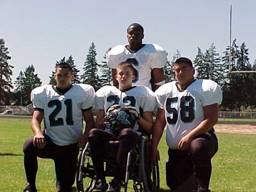 ---
We went back down to see Logan that Sunday.  He did a personal charging session for almost an hour and then Justin did an Energetic Focus Session on his knees and on the actual injury site on his neck, finishing with a personal charging session. 
---
From: dan seelye
To: Justin Brost, Karl Mohr,  Patrick Rummerfield
Subject: Day 100
Date: Tue, 7 Oct 2003 10:16:09 -0700 (PDT)

Today marks the 100th since Logan was injured.
October 26th will be the 58th day at home - he spent 58 days in the hospital.
He is making remarkable progress in school, at home, and with his therapy sessions. He continues to work with the football coaches and has ran the defense in a couple of JV games.
Logan, Sally and I have so many people to thank for their prayers, monetary donations and offers to assist in our home modification. We are truly a blessed family. Logan sums it up best, "I never knew how many people care about me."
We are getting our routines down at home and life is beginning to return to normal. He has a follow up with his neuro surgeon today in Seattle. He'll have x-rays taken and Dr Daily will determine if his brace can be taken off on a permanent basis.
Again, thank you for your prayers and words of encouragement. We survive off of your strength.
God bless,
Dan
---
From: dan seelye
To: Justin Brost, Karl Mohr , Patrick Rummerfield  
Cc:
Subject: Pics
Date: Tue, 7 Oct 2003 10:22:20 -0700 (PDT)
Day 100 since Logan's injury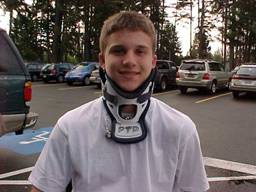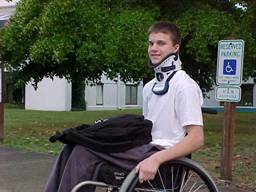 ---
From: dan seelye
To: Justin Brost
Cc:
Subject: Logan
Date: Mon, 13 Oct 2003 12:25:11 -0700 (PDT)
Thanks again for driving down to our home on Sunday.
Attached are a couple of photos.
Dan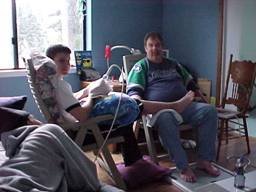 ---
From: dan seelye
To: Aaron Seelye
Cc:
Subject: Check This Out
Date: Thu, 16 Oct 2003 10:59:41 -0700 (PDT)

With the grace of God, Logan begins the next phase.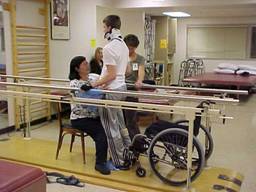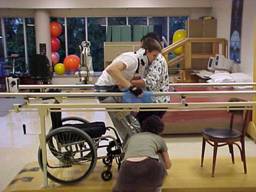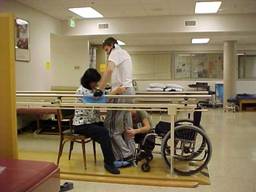 ---
From: dan seelye <danseelye@yahoo.com
To: Justin Brost, Karl Mohr, Patrick Rummerfield,
Cc:
Subject: Not Taller
Date: Mon, 20 Oct 2003 20:55:05 -0700 (PDT)

We will have to do an official measurement.
I say I'm still TALLER!!
Dan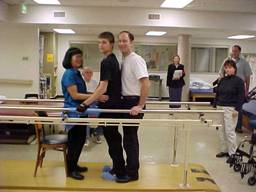 ---
SEATTLE POST-INTELLIGENCER
http://seattlepi.nwsource.com/preps/145764_prep28.html

High Schools: A real step in Seelye's comeback
Four months after suffering broken neck, Spanaway Lake player remains upbeat
Tuesday, October 28, 2003
By MARK BERGIN
SPECIAL TO THE POST-INTELLIGENCER
In the days before the injury, Logan Seelye's cares were typical for a 16-year-old boy. The junior-to-be at Spanaway Lake High had a driver's license to obtain, a girlfriend to date and independence to achieve.
On July 2, Seelye suffered a broken neck at a Central Washington football camp in Ellensburg.
On Oct. 15, Seelye pulled himself up from his wheelchair and steadied his frame.
The only care on this day was recovering some semblance of normalcy -- one step at a time.
With his hands tightly gripping a set of parallel bars at Good Samaritan Hospital in Puyallup, Seelye fired neurons to his lower extremities and watched his left leg respond. The leg strode out boldly, producing Seelye's first step since the injury.
"It was a real step, not just a baby step," Seelye said the following week. "That was a big positive reinforcement. I knew I was going to walk again, just not this soon."
Since taking that first step, Seelye has duplicated the effort three times a week during physical therapy. The left leg continues to show promise, while the right leg lags slightly behind.
Well ahead of either leg is Seelye's unbroken spirit.
"If I ever start to feel down, I just slap myself in the face," he said. "I can't do that; I can't get down. I want to get better."
Logan's father, Dan, hopes his son will walk unassisted across the stage at high school graduation in June 2005.
The hopes of an optimistic father hardly stop there. Dan Seelye, as he has from the first days following the injury, continues to insist that Logan may yet play football.
"I said to him the other day, 'Are you going to play ball?' and he said, 'No, no doctor would clear me,' " recalled Dan, who recently purchased Logan "Play Like a Champion," a book on football technique.
"I told him, 'It's not up to a doctor. It's up to you.' Nothing has changed as far as his passion for the game."
With the possibility of playing football, let alone walking, still years away, Seelye finds outlet for that passion in serving as an assistant coach for Spanaway Lake. He attends practice regularly, offering tips to players and inspiration to coaches.
On Sundays, he joins Sentinels coach John Robak in his living room to analyze game film. On Mondays, he calls the defensive plays for the junior varsity games.
With football, school and the difficulties of life in a wheelchair, Seelye has little time to sulk. He attends four classes a day, skipping physical education for two-hour physical-therapy sessions.
Getting ready each morning remains a challenge.
"It's almost like having an 18-month-old at home," Dan said. "It would take 45 minutes for him to dress himself, so I help him. It's like getting four of me ready every day. It's given us a lot of together time."
While grateful for the opportunity to deepen an already strong relationship with his father, Seelye craves some measure of independence -- even in the simplest of things. He has learned how to climb unassisted from his chair to his bed and back again, and is close to doing the same with the passenger seat of a car.
As the weather turns, a quick transfer in and out of the car becomes increasingly important. When a record five inches of rain poured down in one day, the Seelyes were hardly prepared.
"It was difficult," said Dan, who cannot hold an umbrella while helping Logan from the car. "By the time we got into the house, he was wet and the chair was soaked."
Such events are regular for the Seelyes, who continue to learn as they go. Thanks to fund-raisers and community support, medical costs have not yet been among those burdens.
On Oct. 17, a fund-raiser was held by the booster club at Redmond High, the school against which Spanaway Lake was scrimmaging when Seelye suffered his injury. Donations were collected from fans attending the Redmond football game.
"I can't thank everyone who has helped individually," Dan said. "I just ponder why we are so blessed."
Though Seelye's right leg is not strong enough to support him and must be heavily braced when he stands, he does have feeling in the leg. He's beginning to distinguish hot and cold in both legs, and the neck brace he wore for months after the injury has been removed.
Last Wednesday, Seelye got another bit of good news when he was named Homecoming prince at Spanaway Lake. The realistic teenager chalked it up, at least partially, to a sympathy vote.
"That's OK," he said. "I'll take what I can get."
© 1998-2003 Seattle Post-Intelligencer
---
| | |
| --- | --- |
| The News Tribune - Tacoma, WA | |
Injured student treats rehab like a workout
DEBBIE CAFAZZO; The News Tribune
Some days, Logan Seelye measures progress in inches.
Other days, he paces it off 65 feet at a time.
That's the approximate length of the hallway he navigated Monday - with the help of braces and a walker - in the rehab department at Good Samaritan Hospital in Puyallup.
Seelye, a Spanaway Lake High School junior, was injured July 2 at a summer football camp. After colliding with another player, he sustained two dislocated vertebrae in his upper spine, as well as damage to his spinal cord that initially left him paralyzed and bedridden.
He started the school year with a wheelchair, and that's still his primary means of mobility. But nearly six months after his injury, Seelye has yet to say "I can't."
His New Year's resolution for 2004 is to abandon even the walker and walk either with a cane or unassisted.
It's a huge goal, given his injuries. But those who know Seelye believe it's possible.
In October, Seelye began standing at the parallel bars in the rehab room for the first time. Two weeks ago, it took him 45 minutes to pace the hospital hallway using a walker. On Monday, he made it in only 15 minutes - including a brief rest break to let his spasming muscles rest.
Two of his Spanaway Lake teachers - Julie Gwinn and Brooke Wilkinson - were there to cheer him on.
"This is awesome, Logan," Wilkinson said, as Seelye started down the hallway.
"This is so amazing," said Gwinn.
At school, she's used to seeing Seelye in his wheelchair. The last time she saw him in therapy, he was just beginning to work on standing up.
Seelye's dad, Dan, hovered at a distance as always, capturing the moment on videotape. Logan Seelye comes to rehab three days a week. But he has asked his dad to tape him only on Mondays so that he can track the progress he makes from week to week.
"Every day for him, it's getting better and better," Dan Seelye said. "Is there a plateau? Maybe. But I don't think Logan will limit himself on that."
Monday marked another milestone for Seelye: He got his first pair of custom-fitted leg braces, which should make his rehab workouts go smoother.
"That does feel good," Seelye said as Michael Podrasky, his orthotics specialist, strapped them on. "I can tell, not even standing up - this fits."
Like most teenagers, Seelye said he plans to spend his Christmas holiday break "hanging out, sleeping in." He jokes that playing video games will be good exercise for his hands, which still have limited movement due to his injury.
But he'll also continue his three-day-a-week rehab schedule, which each day includes an hour of physical therapy where he works primarily on his legs, and another hour of occupational therapy that concentrates on his hands, shoulders and arms. He starts occupational therapy by lifting nearly seven pounds with his left hand, and 10 pounds with his right.
He always does 22 repetitions of each lift.
"That's my number," he says, grimacing and referring to his Spanaway Lake Sentinels jersey number.
Seelye credits hard work and the support of friends, football teammates and family for his progress so far.
"My friend Brandon Fleming, we were workout buddies before we went to camp," Seelye said. "We pushed each other."
Now, he said, he pictures his physical therapy sessions as just another form of workouts. And he keeps pushing.
Debbie Cafazzo: 253-597-8635
debbie.cafazzo@mail.tribnet.com

(Published 12:01AM, December 23rd, 2003)
---
November 2005
Logan began attending college classes at CWU this fall.  He and his father, with the guidance of Pat Rummerfield are exploring his rehab options. 

2008 UPDATE!!!
From: Logan Seelye [mailto:duceduce122@yahoo.com]
Sent: Friday, March 28, 2008 8:22 PM
To: Aaron; Aunt Cindy Falceto; Aunt Debbie; Coach Bro; Coach Ro; Eric Johnson; Grandpa and Margie; Janine Fleming; Justin and Shannon; Michael King; Mike Utley; Mrs. Gwinn; Patrick Rummerfield; Susan Manger; Uncle Scott
Subject: An update of how Im doing
Hey,
I just wanted to email you all and let you know how things are going with me. I havent kept in contact with all of you and just felt like letting you know whats going on in my life right now.
Jordyn and I are officially engaged, but we do not know when we are getting married yet, most likely after we both graduate from college and are financially stable. We got a dog, he is a yorkie and maltese mix and his name is Duce. He is a crazy little puppy but we love him to death.
I am now a junior in college, and am majoring in Information Technology and Administrative Management, so Ill be a big nerd the rest of my life! I am specializing in Web design, so i am learning a lot about computers and stuff. I am doing really good with all my classes that count towards my major, as my GPA for all of those classes is a 3.68 or something like that, and my cumulative GPA is 2.992...so close to a 3.0!! So, I am slowly but surely getting my grades up there. Everything with school right now is going good, and if it continues to do so I should graduate in June of 2009.
As far as walking and stuff, for about the past 3 weeks I have been walking around my apartment basically 95% of the time, as I really only use the wheelchair as a computer chair to sit in when Im at the computer...obviously...but, I walk around practically the whole time now. Whether I get up to go use the bathroom, or to make food, do the dishes, go brush my teeth, yada yada yada. And, since I've started to walk around more, I've also been riding a workout bike when I go workout. I started out just going easy, like 5 minutes, then I gradually increased the time and resistence and I actually went for 25 minutes the other day and went 3.2 miles! So I am pretty excited about all of that. I am getting stronger everyday, so hopefully soon I'll be out of the wheelchair!
Since my strength has been getting better, and just because I have been wanting to do this for so long, I have been really looking into getting a car this summer. I went to Good Sam hospital in puyallup and got a driver's evaluation done to see what I am going to need in order to start driving again. As it turns out, I am not going to be needing to get hanf controls to drive, which is such an exciting thing for me as I didnt want them. But, instead of hand controls, all i need is a left foot accelerator, which is a little device that when installed into the car allows me to accelerate with my left foot. If you didnt know, my left foot/leg is a lot stronger than my right, so thats why I can use the left foot accelerator. When I did the evaluation, I actually drove around for about an hour and did really good, it felt so natural for me too. I drove out on River Road for a little while and got up to 55 mph! It was such a good feeling for me to be driving again, and I am really excited to get a car soon.
Anyway, Im not sure what else there is to say, but if you want to know anything else just email me back! I will talk to you later.
Logan